Not British but, like Snaffles mousse, alchemical in its transformation of simple ingredients into a greater good. Foolproof and fun, this ideal dish for a dinner party will, like the mousse, keep your guests guessing about its ingredients. For four; easily doubled.
---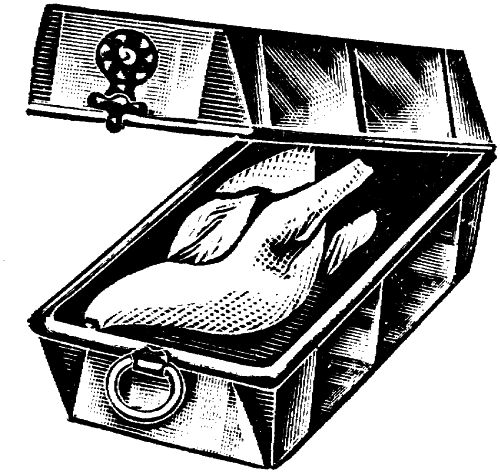 -a generous cup of dried porcini mushrooms
-1½ cups warm chicken stock
-a chicken cut into 8 pieces or 8 thighs or 4 breasts split crosswise
-2 Tablespoons unsalted butter
-2 Tablespoons olive oil
-about ⅔ cup white wine
-salt and pepper
-1 cup tomato sauce
-2 or 3 more Tablespoons unsalted butter at room temperature
-heaped Tablespoon flour (preferably Wondra)
---
Soak the mushrooms in about half the stock for at least ½ hour.
Heat 2 Tablespoons of butter with the oil over medium heat in a heavy flameproof pot. Once the butter melts , increase the heat to high and brown the chicken pieces.
Pour the white wine into the pot with some salt and pepper, reduce the heat to medium and cook the mixture until about half the wine evaporates, usually in just a few minutes.
Stir the tomato sauce into the pot, then the stock and mushrooms.
Bring the sauce to a boil, then reduce it to the merest simmer, cover the pot and cook for about 40 minutes.
Mash together the remaining butter and the flour, then mix it into the sauce. Cook until the sauce thickens to a smooth, creamy texture: It will not take long.
Serve with mashed potatoes and something green, like braised chard.
Note:
-There is not much excuse for posting this recipe at britishfoodinamerica other than the way it transforms its ingredients into something unrecognizable and sublime, like Snaffles mousse… and the fact that it is very, very good.