Rhubarb sauces for fish… & other things too.
Rhubarb, like gooseberries, is the basis of a traditional sauce for service with mackerel and other oily fish at various places in the British Isles including London, Bristol and Ireland. The tart snap of the plant is a bracing foil for the fish. Our recipes reflect the regional variations of available ingredients back in the day.
These sauces work equally well with duck, ham, pork and venison; meat and birds that benefit from fruit like apples or redcurrant pair well with rhubarb as well.
A basic rhubarb sauce from Ireland.
Alan Davidson included this sauce in North Atlantic Seafood (New York 1980) for service with mackerel. It works equally well with bluefish but do not limit to them. Davidson got the recipe from "the inventive ladies of the Irish Sea Fisheries Board in Dublin." He considers their sauce inventive too, but on the mistaken assumption that saucing an oily fish with rhubarb is not as traditional as using gooseberries. Simple, like much of traditional Irish cookery:
---
-1 lb chopped rhubarb
-about 2 Tablespoons sugar
-about 2 Tablespoons water
-about 1 teaspoon lemon zest
---
Dump everything in a heavy pot and cook on low heat, stirring occasionally to prevent sticking, until the rhubarb breaks down, usually in 15 minutes or less.
Puree the sauce; a hand mixer is handiest but a blender, processer or food mill would do.
For service either cold or hot.
Bristolian rhubarb sauce. Strawberries are not the only fruit that complement rhubarb; apples do too. As Theodora FitzGibbon notes in A taste of the West Country (London 1972), "Baked Mackerel with Rhubarb is a speciality of Bristol and the West Country," where Somerset is synonymous with apples. This Bristolian sauce reflects that fact and is nearly as easy to make as the Irish version; the spice is a welcome addition.
---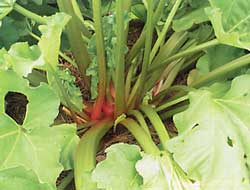 -1 lb chopped rhubarb
-½ cup hard cider
-about 2 teaspoons lemon juice
-3 or 4 Tablespoons brown sugar
-½ teaspoon mace
---
Follow the same method as for the Irish sauce.
Notes:
- Nutmeg is an equally good alternative to the mace. Both are spices particularly kind to the flavor of apples.
- Mary Prior includes a recipe for fish with another rhubarb sauce in Rhubarbaria (Totnes, Devon 2009). She got it from the proprietor of an Exmoor hotel, who found it "in an old Penzance cookbook" that Prior unfortunately doe not identify; the Editor would like to see a cookbook from Penzance. It is essentially Mrs. FitzGibbon's recipe using ½ teaspoon not only of both mace and nutmeg but also of cinnamon and salt.
- More recipes from the West Country appear in "The Bristolian Number" at bfia No. 5 from March 2010, available in our archive.
Mary Prior's rhubarb sauce for John Dory, salmon and "the usual suspects." Prior's own sauce is a good one, made savory by the addition of shallot or onion. If you choose onion like us to further tint the sauce.
---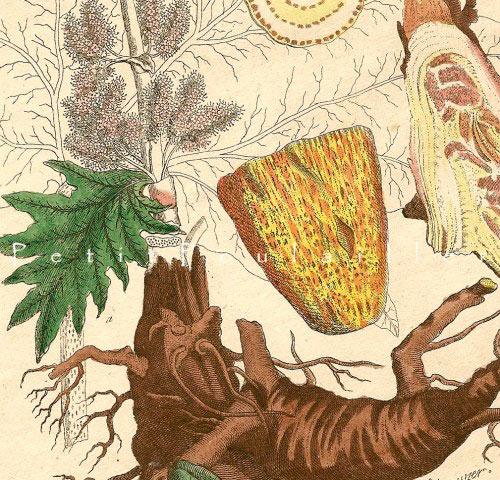 -1 lb chopped rhubarb
-a chopped red onion
-juice and zest of an orange
-2 oz water
-1 or more teaspoons grated ginger
-salt and pepper.
---
As usual mix the ingredients, simmer until the solids soften and then puree the sauce.
Rhubarb sauce with cayenne and marmalade. Another good sauce courtesy of Mary Prior, this one from a 1985 article by Christine France called "Rhubarb, Rhubarb, Rhubarb" from the defunct Women's Realm magazine: However did Prior find it? France paired the sauce with plaice, a meaty flatfish from British waters, but the sauce is equally good with everything else mentioned in this recipe chain.
---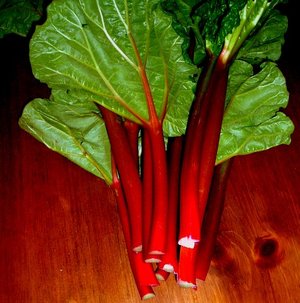 -1 lb chopped rhubarb
-juice of 3 oranges
-zest of an orange
-generous ½ teaspoon cayenne
-2 Tablespoons coarse dark marmalade
-salt and pepper
---
Throw everything into a pot (nonstick would help prevent sticking, bring the sauce to a boil and then simmer until it thickens to a syrupy consistency.
(Optional) France does not puree her sauce but it does amalgamate the lumps in the marmalade.
Always serve this one hot.
Note:
- We have modified the original recipe by halving the amount of orange juice: It just was too much liquid. We also have added the orange zest and increased the amount of marmalade. Go ahead and use more cayenne if you like. The interplay of heat and sweet is good.